I'm linking up with my internet turned in real life back to internet life but still real friend Amy for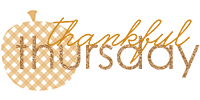 This week I'm going to start with some internet thankfulness.
One // Thrive Moms
As soon as this website went live I followed and subscribed. I had already been following both Nathalie and Kara Kae on twitter, instagram and their personal blogs. I loved their sweet hearts for encouraging mommas & that is what Thrive Moms is all about.
Bonus I got to meet both of them at the Influence Conference this year.
You can read her blog in that link. There are blogs that someone writes that just seems to get you. Jessi and I are have a few things in common, we so love Jesus, a house full of littles, body issues & a heart for encouraging women. When I first started following Jessi on twitter a few years ago I was blown away by her way to approach the throne. She was gentle & graceful & full of truth. It was so different, a breath of fresh of air.
Yep, I got to meet her too. Honestly at first I was starstruck, but guess what? Jessi is just like you & I and she doesn't want you to be starstruck with her.
When I first heard all about the conference I thought wow, that would be nice to go, for rich cool bloggers. I sat by wishing I was there stalking the twitter feed the whole weekend. And then came the network site. I was very hesitant at first about the whole paying $10/month. I kept thinking to myself why would I pay for community when I get it for free via twitter & instagram. But it is so much more. If you are still on the fence about it, jump in! The classes themselves are so worth it, but there's more. Free downloads, podcasts, and the forums. The forums are great, I have received so much help with blog.
For a camera-holic woman like me this site is perfect. I have always loved taking pictures. When I was a kid I would go through film & disposable cameras like crazy, now it's filling up our server with digital pictures. Instagram is right in the hand.
Yes I am thankful for Pinterest. I know it might sound a little crazy, but meal planning is made SO easy. At the beginning, I pinned everything. Now I still pin a lot, but it's a bit more reasonable. I do pin clothes, but only clothing I think I would actually ever wear. But the meals, that is where it's at. If you struggle with dinners, I encourage you to take the pinterest plunge.
What I do: Find recipes, write them on the day, write down ingredients. Voila. Easy peasy.
The internet doesn't have to be something that steals too much time, it can be helpful & uplifting. In the internet world, what are you thankful for?